SADDLE & TACK REPAIR
NOW LOCATED IN WINCHESTER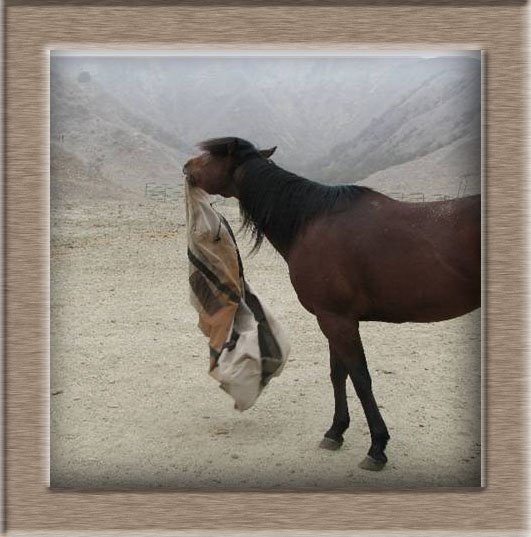 As you know, horses are sometimes unpredictable and your equipment can get damaged in unexpected ways. I am here to help get you, your horse, or dog out of hot water and get you back on the trail again pretty quickly and safely. I have over 25 years of experience repairing saddles & tack, and take pride in my work. I think you will be more than happy with the quality of my repairs.
For most saddle and tack repairs the charge is $25 - $30 an hour, plus materials. Most repairs are finished within 1 - 2 weeks. There is a minimum charge of $5.
Blanket laundry and repair is also available. Some of the blanket laundry is done by my reliable blanket laundry lady friend who gets most blankets back within one week. Prices are very reasonable.
It is difficult to give an absolute price on most repairs without seeing the equipment, but here is a list of some of the most common repairs:
Replace western stirrup leather that attaches to top of fender: $40 each
Replace western stirrup leather that runs full length of fender: $55 each
Replace saddle strings that attach to D-Rings: $6 each
Replace saddle strings that go through tree: $8 - $12 each
Replace western seat: $200 - $300
Replace fleece on skirts:
Real Sheepskin: $275 - $350
Wool Fleece: $225 - $275
Synthetic Fleece: $175 - $225
Stitch around saddle horn: $10 - $20
Replace both breast collar D-rings on saddle:
Riveted through fleece: $20
Skirts un-stitched and re-stitched & D-rings added: $30 - $50
Most other saddle repairs: $30/hr plus materials
Most tack repairs: $25/hr plus materials
English Saddles:
I can replace knee rolls, billets, D-rings, re-stitch gullet or rear, and more.
Please call for prices on English.
If you have any questions on repairs, please feel free to contact us.
Happy Trails